Friday, 22 November 2013 21:22
Bloomberg View published an interesting opinion piece on the globalization of disasters. The article is written by an expert on the Tambora volcano eruption in 1815. Gillen D'arcy Wood believes that as climate change creates larger-scale events (such as Typhoon Haiyan), the potential for these events to affect the entire world increases exponentially. He uses the Tambora event as a past example; the eruption had a major impact worldwide.
Wednesday, 20 November 2013 01:56
Thousands are still without power after tornadoes tore through the Midwest on Sunday.  The storm system was a large one, striking twelve states, and occurred very late in the tornado season.
ITS Tactical has some linked suggestions on how to help Americans in need following this event.
Friday, 15 November 2013 21:44
Following a major disaster like Super Typhoon Haiyan in the Philippines, have you ever wondered why it takes so long for aid to arrive?  Part of the problem is logistics (transportation, distribution, etc.) but a big reason is money. Relief organizations rely on donations, which typically don't start flowing until after the disaster.  These organizations want to pre-position supplies and resources, but are limited by their funding.
Wednesday, 13 November 2013 20:32
The aftermath of Super Typhoon Haiyan has been pretty devastating. Thankfully, the latest death toll stands far below the original estimate of 10,000, but thousands of people are homeless and without basic needs.
Aid groups and relief organizations have been encountering the typical post-event barriers (logistics, fuel needs, coordination of burials, supply chain issues, etc.) and have been having difficulty deploying, particularly in the hard-hit city of Tacloban.
Friday, 08 November 2013 20:30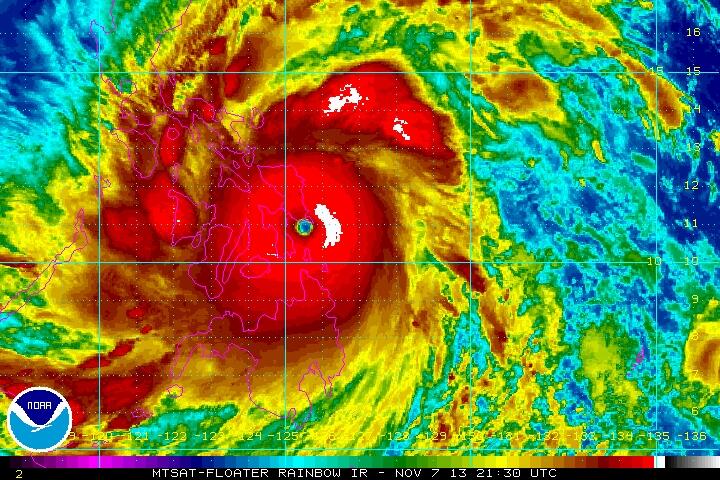 Multiple news outlets are reporting that Super Typhoon Haiyan may very well be the largest storm ever to be reliably recorded on Earth.
Our thoughts and prayers are with the people of the Philippines.  The country is ahead of the curve on disaster preparedness, but this storm is going to be devastating.
Image via NOAA's Twitter feed.